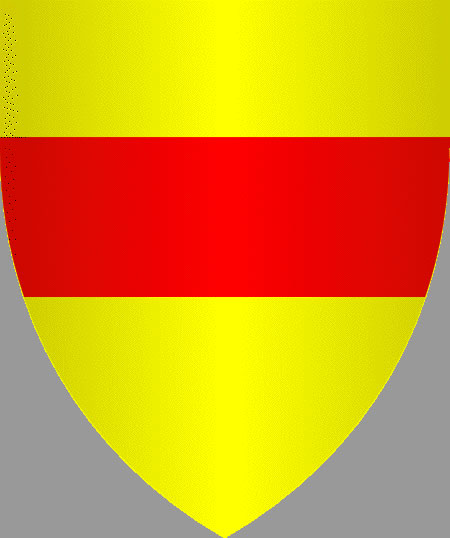 May 3rd 2017
I have added evidence for the date of the marriage of Margaret de Braose to Walter deLacy.
Feb 21st 2016
Evidence added that Isabel, married to Dafydd ap Llywelyn, was the eldest daughter of Black William.
May 17th 2012
An update to the page for Philip, 2nd Lord of Bramber. More details have been added from Orderic Vitalis.
May 17th 2012
New information about Philip de Braose who accompanied Henry II to Ireland. It appears that he was Sheriff of Pembroke.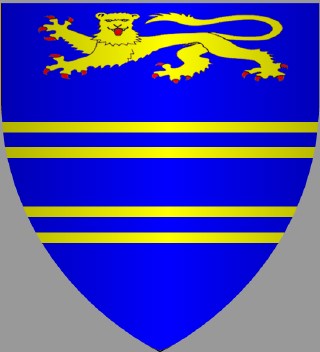 February 19th 2012
I have discovered a new daughter for Philip de Braose. She married a member of the Tregoz family.
December 3rd 2010
The page for William, Sheriff of Hereford, has been given a complete revision with a lot of new information.
October 6th 2010
Steyning museum website has published a short history of the Braose lords of Bramber. I wonder where they got those pictures? (With permission!)
September 6th 2010
Corrections to some dates concerning Isabella Mortimer have been made in the light of a posting to soc.genealogy.medieval by Doug Richardson.

July 1st 2010
Another child, Mary, has been added for Richard and Alice de Brewes.
May 30th 2010
Paul Mackenzie has contributed another article. He has discovered further evidence about the death of the wife of Peter de Brewes of Wiston. It is available on a page titled The Death of Joan de Brewes.
March 11th 2010
A more accurate description of the birthdate of Philip de Braose has been added and other minor changes have been made.
February 11th 2010
A set of three pages has been added recording the transcription and translation by Paul Mackenzie of a document concerning a debt of Peter de Brewes.
December 3rd 2009
A minor addition concerning the arms of the Merlot family on the Gillian de Braose page.
November 19th 2009
I added the widget at the top of this page so you can see what the latest posts on the Braose Web and More blog are.
November 5th 2009
You can find some extra thoughts about the Braoses on my new Blog. It is called "Braose Web and More".
September 17th 2009
I have added some notes which give further support to Paul Mackenzie's view about the maternity of Beatrix and John de Brewes. They can be found at the same page.
August 17th 2009
An addition has been made to the page of Eleanor de Braose about the husband of her daughter Eleanor.
August 12th 2009
Paul Mackenzie has made an article available on this site about The Maternity of John and Beatrix de Brewes.
February 9th 2009
Some additional information has been added to the notes on John de Braose (d. 1205)
January 21st 2009
Some more information has been added to the page of William, 3rd Lord of Bramber.
January 2nd 2009
A page has been added for Walter de Braose, who died in 1233/4.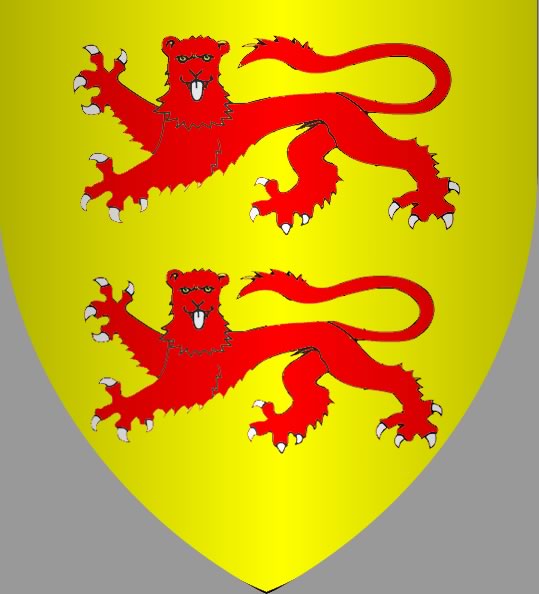 August 28th 2008
A page has been added for Maud de Braose who married John de Brompton.
October 20th 2007
Some additions have been made to the page of Maud de Braose who married Roger de Mortimer.
July 9th 2007
A new page has been added for Joan of England, natural daughter of King John, the wife of Llywelyn ap Iorwerth.
June 12th 2007
Another daughter of Philip de Braose, Gillian, has been identified and a page added.
March 14th 2007
A page has been added for Richard of Tetbury, son of William (d. 1291).
March 3rd 2007
A page has been added for Peter of Tetbury, son of William (d. 1291).
March 2nd 2007
A new page added for Giles, of Knolton and Woodlands, the 13th century holder of Buckingham castle.
February 24th 2007
The new look, revised site has been launched.
January 20th 2007
A new page has been added for Richard, husband of Alice de Rus. It includes a link to an article on Richard's ancestry written by Paul Mackenzie
August 20th 2006
A page has been added for Margaret, daughter of William de Braose (d. 1291).
April 14th 2006
A new page has been added for Philip, son of William de Braose (d. 1211).
February 17th 2006
New pages on the daughters of William de Braose (d 1326), Joan and Aline.
January 23rd 2006
Paul Mackenzie has transcribed and translated the Feet of Fine between Richard and William de Braose made in 1272 regarding the manors of Akenham and Bramley. He has made it available to read on the pages titled Feet of Fine.
January 7th 2006
Matthew Boulter researched the life of Willliam de Braose (d. 1211) for an MA at Sheffield University. He produced a dissertation and has kindly agreed to make it available for others to read via this website.
August 22nd 2005
The Inquest of John de Brewes (1426) has been transcribed and translated. A set of pages has been added.
May 21st 2005
Eva de Braose's page has been updated. Some more information on the Cantilupe family has been added.
December 31st 2004
An update on the page of William (d. 1210). Additional children have been added and details on all his children brought up to date with my present knowledge. More details on the children of John (d 1232) have also been added.
December 10th 2004
Additional material has been placed on the page of Maud (married to Gruffydd ap Rhys), including evidence concerning another daughter Lleucu.
March 9th 2004
An addition has been made to the page on Philip, son of Philip.
December 6th 2003
A new page on Margaret, wife of John de Braose, daughter of Llywelyn Fawr.
November 30th 2003
An update of the page for William, Lord of Gower, (d 1326) has been made including a biography by Lynda Denyer. More notes on William's children have been added also.
October 26th 2003
New evidence as to the parentage of Matilda de St Valery has been found. It is given on her page.
April 19th 2003
A new link on Sibyl's page to my post about her marriage to Earl Ferrers.
December 20th 2002
A new page for the John mentioned below.
December 9th 2002
The addition of a child John for William de Braose II, and a note on evidence for his son Roger.
October 27th 2002
Reinstatement of Sibyl
September 29th 2002
A revision of the children of William de Braose III and Matilda de St Valery, using evidence from British Library MS Cotton Julius D, x.
A change in position on the Bertha Braose - Beauchamp marriage.
A note on the now doubtful Sibyl who was thought to have married William de Ferrers.
July 1st 2002
The first pages in French have appeared on the Braose Web! Thanks to Denise Roussel, our partner in Briouze. See William I or Philip.
April 11th 2002
The daughter of Philip now seems unlikely. More details on Eleanor's family.
April 4th 2002
Update on the page for Philip de Braose and a new page for another possible daughter.
January 13th 2002
A new daughter for Eleanor de Braose has been discovered.
November 6th 2001
New conclusions on the mother of Gwladus Ddu added.
May 25th 2001
Revisions made of birth data on Black William
April 12th 2001
Minor revisions made on pages of William I and Philip
March 16th 2001
The Barons de Braose site has been selected as a History Television approved site in its "Tyrants, Traitors and Heroes" section. The Braoses are heroes of course!
January 30th 2001
We are really proud to have been given an award for Lynda's "Barons de Braose" site by the Historic and Cultural Heritage of Perm region, Russia. Ours is only the second site which they have selected for their Web Nobility Award.
January 17th 2001
A couple of errors on the page for Eleanor were pointed out by Pat Lloyd. (Thanks Pat!) So it has been revised.
December 30th 2000
Additional notes on page of Maud de Braose, wife of Gruffydd ap Rhys.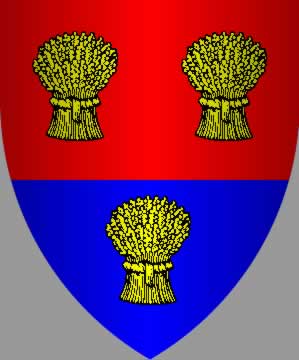 November 15th 2000
The arms of William, d1211, also as illustrated by Matthew Paris in the 13th century, have been added to his page too.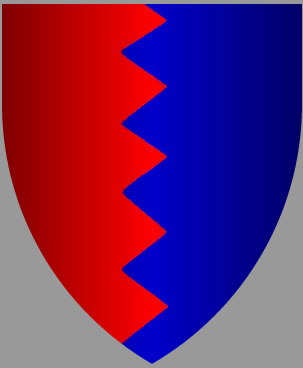 November 13th 2000
The arms of "Black William", as illustrated by Matthew Paris in the 13th century, have been added to his page.
October 3rd 2000
A new page on Annora, daughter of William (d1211). She was an anchoress at Iffley, Oxfordshire.
November 11th 1999
Updates of the pages on William 1, Philip, Robert de Harcourt and Philip de Harcourt. All connected with the new view that Philip's mother was Eve de Boissey.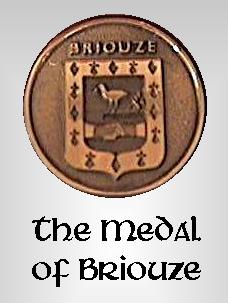 October 11th 1999
Lynda Denyer and Doug Thompson were presented with the Medal of Briouze for their work on the de Braose family and the help they gave in organising the visit to Britain of Les Amis du Houlme.
(see report)
August 17th 1999
A new page on Basilia, daughter of Philip de Braose and associated corrections on the pages of William (I) and Philip.
April 9th 1999
Sources given for speculation about parentage of Joan of England
April 7th 1999
Both the "Barons de Braose" and "The Braose Web" have been given a brand new look. Navigation around the sites has been made easier. Let us know what you think. Lynda has added lots of new information and notes to the history site. Doug has added new details on the Harcourts and introduced some heraldry of the Braoses' relatives by marriage. Thanks are due to "Les Amis du Houlme" at Briouze for providing us with valuable new sources relating to the early history of the Braoses. There is still a lot more to be added over the next few months.
September 26th 1998
Lynda Denyer's "Barons de Braose" pages have been given a totally new format. There is a completely revised text incorporating some of our recent findings and some new pictures. Our two sites are now fully integrated with easier movement between them. Tell us what you think, especially if any gremlins have crept in!
September 2nd 1998
Updated information on the wife of Philip de Braose, junior.
July 28th 1998
A new page on Eva Marshal, wife of William de Braose d.1230
Translations of letters between Llewelyn Fawr and Eva Marshal and her brother (May 1230)
Additions to the record on Richard de Braose, son of John
June 18th 1998
Not strictly Braose but the Caryls were later residents of the 18th century Knepp castle. They lived in the area from the 15th century onwards. I've put in a few pages on Thomas Caryl and his tomb at Shipley.
May 22nd 1998
A new page added on John de Braose d1205. (see below)
May 21st 1998
An addition to the page on William, 4th Lord of Bramber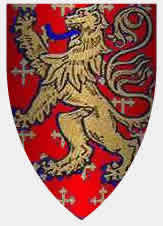 Child 8: John = Amabil de Limesi
There is a claim by the Knill family that John is the founder of their family. Their arms (right) are a colour variant of the de Braose arms.