Born: 1173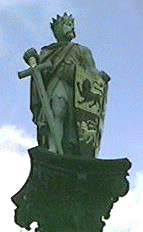 Died: 11 April 1240. Llywelyn was buried at Conwy where he is commemorated by a statue (right).
Father: Iorwerth Drwyndwn ab Owain Gwynedd
Mother: Marared, daughter of Madog ap Meredudd
Llywelyn acceded as Prince of Gwynedd in 1194.
He was married in 1205 to Joan of England and also associated with Tangwystyl Goch.
Child 1: Gruffydd ap Llywelyn (d 1244)
Child 2: Dafydd, Prince of Gwynedd
Child 3: Helen = (1) John, Earl of Chester (d 1237 s.p.) = (2) Robert de Quincy (d 1257)
Child 4: Gwladus Ddu
Child 5: Margaret (Marared) = (1) John de Braose = (2) Walter Clifford (d 1263)
Child 6: Gwenllian (d 1281) = William de Lacy
The attribution of some of the children to the two mothers is uncertain but Grufydd is known to be Tangwystyl's son and Dafydd, Gwladus and Helen are Joan's children.