Born: 1198
Died: 1232
Nicknamed "Tadody" by the Welsh when he was hidden in Gower as a child after King John had killed his father and grandmother, he was later in the custody of Engelard de Cigogny (castellan of Windsor) along with his brother Giles. Cigogny was ordered to give the two boys up to William de Harcourt in 1214. But John was not freed. Peter de Maulay, constable of Corfe castle was ordered to free John into the care of the bishop of Winchester and Hubert de Burgh in 1216. Peter was again ordered to release John and Giles in 1218. This time the order seems to have been carried out.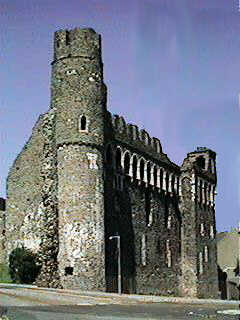 John disputed his uncle Reginald's claim to the Braose lands, sometimes resorting to arms. Llywelyn helped him to secure Gower (1219). In 1221, with the advice and permission of Llewelyn, he repaired his castle of Abertawy (Swansea, right) or Seinhenydd. He purchased the Rape of Bramber from Reginald and his son, William, in 1226. In that year John confirmed the family gifts to Sele Priory, near Bramber, and to the Abbey of St. Florent, Saumur, and added others. After the death of Reginald (1228) he became Lord of Skenfrith, Grosmont and Whitecastle, the three Marcher castles, by charter from the king but he lost these in 1230 to Hugh de Burgh at the same time as Gower became a subtenancy of de Burgh's Honour of Carmarthen and Cardigan.
John was killed by a fall from his horse at Bramber in 1232.
Father: William de Braose
Mother: Matilda de Clare
Married to Margaret, dau of Llywelyn ap Iorwerth, (1219)
Child 1: William de Braose (1220 - 1291)
Child 2: Richard de Braose of Stinton, Norfolk etc.,
Married Alice le Rus (d 1301), widow of Richard Longespee. He died before 18 June 1292 and is buried at Woodbridge Priory, Suffolk.
Child 3: John de Braose
Child 4: Llywelyn de Braose
Three of the children are recorded in a contemporary genealogy in MS Cotton Julius D x. (Richard is not recorded.)
John and Llywelyn remained in the care of their mother, who remarried to Walter de Clifford. They are afterwards associated with tenements which had previously been held by Cliffords. (John at Culminton, Llywelyn at Sinton.)
A writ for novel disseisin was issued against Walter Clifford in 1259 for a tenement in Syneton. The same person issued a writ against Llywelyn de Braose in 1270 about a tenement in Cyneton. The case was heard in 1272. (Assizes 56 Hen III) Llywelyn called John Giffard and his wife Matilda to warranty. (Walter de Clifford was Llywelyn's stepfather, Matilda his halfsister.)