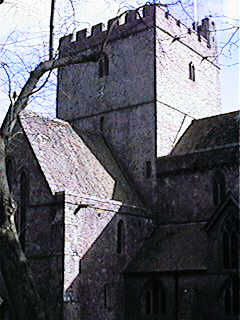 Died: by 1228
Reginald is said to be buried at St. John's, Brecon (right).
Reginald supported Giles in his rebellions against King John. They were both active against the King in the barons' war. Neither was present at the signing of Magna Carta because they were still rebels who refused to compromise. King John aquiesced to Reginald's claims to the de Braose estates in Wales in May 1216. He became Lord of Brecon, Abergavenny, Builth and other Marcher lordships but was very much a vassal of Llywelyn Fawr, Prince of Gwynedd and now his father-in-law. Henry III restored Reginald to favour and the Bramber estates (confiscated from William by King John) in 1217. At this seeming betrayal, Rhys and Owain, Reginald's nephews who were princes of Deheubarth, were incensed and they took Builth (except the castle). Llewelyn Fawr also became angry and besieged Brecon. Reginald eventually surrendered to Llewelyn and gave up Seinhenydd (Swansea). By 1221 they were at war again with Llewelyn laying siege to Builth. The seige was relieved by Henry III's forces. From this time on Llewelyn tended to support the claims of Reginald's nephew John concerning the de Braose lands.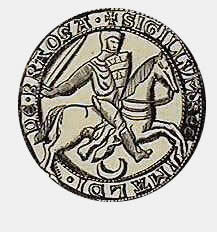 Reginald was a witness to the re-issue of Magna Carta by Henry III in 1225.
Father: William de Braose, 4th Lord of Bramber
Mother: Maud de St. Valery
Married (1) to Grace, daughter of William Brewer
Child 1: William de Braose, Lord of Abergavenny
Child 2 ? Matilda = Rhys Mechyll (of Deheubarth)
Married (2) to Gwladus Ddu (1215)
(Reginald's seal is shown above)