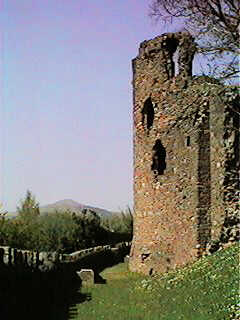 Born: about 1197
His father handed over the Sussex lands of Bramber and Knepp to him in August 1218, so it is probable that he came of age in that year.
Died: 2nd May 1230
William succeeded his father as lord of Abergavenny (right), Builth and other Marcher lordships in 1227. Styled by the Welsh as "Black William", he was imprisoned by Llewelyn ap Iorwerth in 1229 during Hubert de Burgh's disastrous Kerry (Ceri) campaign. He was ransomed and released after a short captivity during which he agreed to cede Builth as a marriage portion for his daughter Isabel on her betrothal to Dafydd, son and heir of Llewelyn. The following Easter, Llewelyn discovered an intrigue between his wife, Joan, and William. Supported by a general clamour for his death, Llewelyn had William publicly hanged on 2nd May 1230.
Father: Reginald de Braose
Mother: Grace Brewer
William was married to Eva Marshal (1206 -1246)
Child 1: Isabel, the eldest
Child 2: Maud
Child 3: Eva
Child 4: Eleanor
Note: The arms shown above are attributed to this William by Matthew Paris. (see Aspilogia II, MP I No 44 & MP IV No 27). In the two existing versions of the manuscript the arms are given differently.