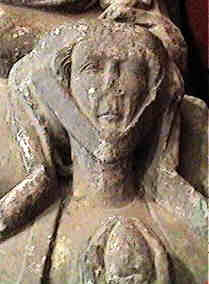 Eva died in 1255 (between 20-28 July).
She was buried at St. Mary's Priory Church, Abergavenny. Her effigy (right and below) bears a shield decorated with the Cantilupe fleurs de lis.
Father: William de Braose, Lord of Abergavenny
Mother: Eva Marshal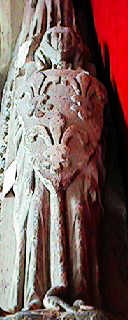 After the death of Eva's father William (II) de Cantilupe obtained the wardship and marriage of Eva in 1238. By July 1241 he had married her to his son William (III) de Cantilupe. The honour of Abergavenny and half the honour of Totnes enlarged the Cantilupe family holdings. Further lands descended through Eva on the death of her mother, one of the Marshal heiresses to the earldom of Pembroke. William died on 25 Sep 1254, immediately on his return from service in Gascony with the king. He was laid in his grave at Studley Priory, Warwickshire by Simon de Montfort, earl of Leicester and Humphrey de Bohun, earl of Hereford, Eva's brother in law.
(William was the older brother of Saint Thomas de Cantilupe, Bishop of Hereford)
Child 1: Joan de Cantilupe (d 1271) = Sir Henry de Hastings (1235-1268). Their son John inherited Abergavenny.
Child 2: Milicent de Cantilupe (d 1299) = (1) John de Montalt. (2) Eudo la Zouche (d 1279). Their son William Zouch inherited the Cantilupe base of Eaton Bray in Bedfordshire and Eva's moiety of Totnes.
Child 3: George de Cantilupe (1251 - 1273; died with no issue)
The Oxford Dictionary of National Biography states that George was betrothed to Margaret Lacy, daughter of Edmund, Earl of Lincoln, in 1254, and adds that "the marriage seems never to have been formalized". Michael Andrews-Reading, on soc.genealogy.medieval in February 2008, showed evidence that the marriage did indeed take place.