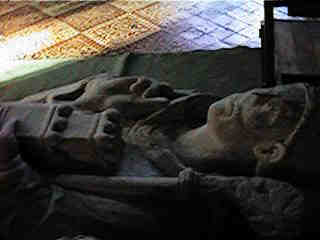 Died in Gloucester, 17 November,1215
Giles was buried in the South aisle of Hereford Cathedral.
Bishop of Hereford from 1200 - 1215, Giles, along with other bishops, left England in 1208 when the Pope's interdict came into force. In 1213 Giles and Reginald turned to open war with King John and took the Braose Lordships in Wales which John had confiscated on the death of their father in 1211. Giles returned to England with Archbishop Langton in 1214 and the situation in Wales was ratified by John (on payment of a fine in Oct 1215). Giles died within a month of this.

Giles built the tower of Brecon Cathedral and is depicted in a window in the North aisle. He may also have built the tower of Hereford Cathedral. His effigy on the North side of the chancel holds a tower.
(In 1202 Hugh de Braose joined Giles to become Dean of Hereford Cathedral. I have not been able to trace his family relationships.)
Father: William de Braose, 4th Lord of Bramber
Mother: Maud de St. Valery