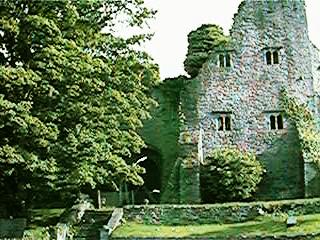 Died: 1210 in Windsor castle.

Maud (Matilda) de Braose was also known as the Lady of la Haie and to the Welsh as Moll Walbee. Married to William de Braose, the "Ogre of Abergavenny", she was a significant warrior in her own right. Her long defence of Pain's Castle when it was besieged by the Welsh earned it the name "Matilda's Castle". The local people saw her as a supernatural character. She was said to have built Hay Castle (above) single handed in one night, carrying the stones in her apron.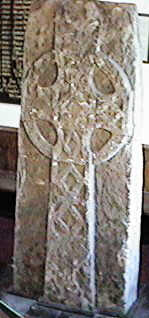 When one fell out and lodged in her slipper she picked it out and flung it to land in St Meilig's churchyard, three miles away across the River Wye at Llowes. The nine foot high standing stone (left) can still be seen inside the church.
The final fall of her husband may owe a lot to her hasty reply to King John when he requested her son William as a hostage in 1208. She refused on the grounds that John had murdered his nephew Arthur whom he should have protected. The dispute between John and the de Braoses led to Maud dying of starvation in one of the King's castles along with her son, while her husband, stripped of all his lands, died the following year in exile in France.
Father: Bernard de St Valery (d.ca. 1190) (see note)
Mother: ???
Married to William de Braose, Lord of Brecknock, Bergavenny etc.
Child 1: William de Braose
Child 2: Maud (Susan) = Gruffyd ap Rhys
Child 3: Giles, Bishop of Hereford
Child 4: Roger
Child 5: Philip
Child 6: Bertha = William de Beauchamp
Child 7: Thomas
Child 8: Walter
Child 9: John = Amabil de Limesi
Child 10: Margaret = Walter de Lacy
Child 11: Henry
Child 12: Annora = Hugh de Mortimer
Child 13: Loretta = Robert de Beaumont, 4th Earl of Leicester
Child 14: Reginald de Braose
Child 15: Flandrina, Abbess of Godstow
Child 16: Bernard
This ordering of the children follows the Braose genealogy given in the 13th century MS
(British Library, Cotton Julius D, x) on the history of the Lords of Brecon.
Note.
Matilda's parentage was uncertain for a long time. Many writers have suggested that she may have been a daughter of Reginald de St Valery. I recently discovered a reference to her in L'Histoire des Ducs de Normandie et des Rois d'Angleterre, ed. Francisque Michel (Paris, 1840), written in the 13th century which describes her as a "daughter of Bernard de St Valery". This appears to have finally settled the matter.
(See a copy of the post to soc.genealogy.medieval which gives more detail.)