birth about 1190
died after 1241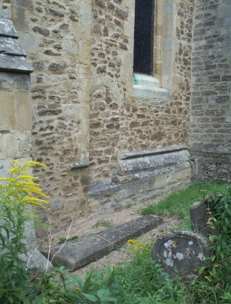 Annora, the twelfth child of William de Braose, was married to Hugh de Mortimer, the heir of Roger Mortimer of Wigmore. Her marriage portion consisted of the manors of Tetbury and Hampnett in Gloucestershire. She was captured and imprisoned by King John in 1210 when attempting to flee from Ireland with her mother. Annora was released in October 1214, the year her husband succeeded to his lands. When he died in 1227 the king allowed her to keep an income of 100 shillings from land in Charlton and Cherrington, parts of the manor of Tetbury, to maintain her as a recluse. Annora granted some of her lands at Tetbury to Godstow abbey, where her sister Flandrina was later to become the abbess, but she became an anchoress at the nearby church of Iffley. Records exist of her receiving an annual gift of firewood from the king and occasional other gifts of food, clothing and building materials. The last gifts were made by the king in 1241 and some have concluded that she died then. It may be significant though that this is the year that William de Braose (d1290), her grandnephew, came of age, recovering the Braose lordship of Bramber and Gower from the king. It may be that he took over responsibility for her maintenance at that time.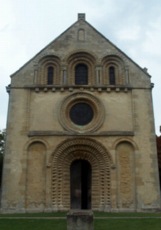 Father: William de Braose
Mother: Maud de St. Valery
Married to Hugh de Mortimer, Lord of Wigmore
The upper picture shows the grave slab on the site of Annora's cell at Iffley, reputed to be hers.
The picture left shows the magnificent Norman West front of Iffley church, one of the best examples of Norman church architecture in Britain. You can see more about this church at their website.
The arms depicted are known to be associated with Ralph, Hugh's brother and heir.