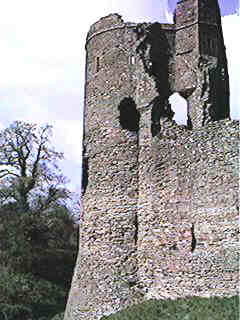 Born: probably 1140/50
Died: 9th August 1211 at Corbeuil
At his peak, William was Lord of Bramber, Gower, Abergavenny, Brecknock, Builth, Radnor, Kington, Limerick and the three castles of Skenfrith, Grosmont (right) and Whitecastle.
He inherited Bramber, Builth and Radnor from his father; Brecknock and Abergavenny through his mother. He was the strongest of the Marcher Lords involved in constant war with the Welsh and other lords. He was particularly hated by the Welsh for the massacre of three Welsh princes, their families and their men, which took place during a feast at his castle of Abergavenny in 1175. He was sometimes known as the "Ogre of Abergavenny". One of the Normans' foremost warriors, he fought alongside King Richard at Chalus in 1199 (when Richard received his fatal wound).
William immediately transferred his loyalty to Prince John and supported his claim to the throne. John's entry to England was via William's port of Shoreham in Sussex.
John extended William's landholdings. He received Limerick, without the city, in 1201 and was also given custody of Glamorgan, Monmouth and Gwynllwg in return for large payments.
William captured Arthur, Count of Brittany at Mirebeau in 1202 and was in charge of his imprisonment for King John. He was well rewarded in February 1203 with the grant of Gower. He may have had knowledge of the murder of Arthur and been bribed to silence by John with the city of Limerick in July. His honours reached their peak when he was made Sheriff of Herefordshire by John for 1206-7. He had held this office under Richard from 1192 to 1199.
His fall began almost immediately. William was stripped of his office as bailiff of Glamorgan and other custodies by King John in 1206/7. Later he was deprived of all his lands and, sought by John in Ireland, he returned to Wales and joined the Welsh Prince Llywelyn in rebellion. He fled to France in 1210 via Shoreham "in the habit of a beggar" and died in exile near Paris. Despite his stated intention to be interred at St. John's, Brecon, he was buried in the Abbey of St. Victoire, Paris by Stephen Langton, the Archbishop of Canterbury, another of John's chief opponents who was also taking refuge there. His wife and son William were starved to death in captivity at either Windsor or Corfe Castle.
Note: The arms shown above are attributed to this William by Matthew Paris (see Aspilogia II , MP IV No7)
Father: William de Braose, 3rd Lord of Bramber, Sheriff of Herefordshire
Mother: Bertha de Pītres
Married to Maud de St Valery ("before 1170" - Powicke's Loretta)
Child 1: William de Braose
Child 2: Maud (Susan) = Gruffyd ap Rhys
Child 3: Giles, Bishop of Hereford
Child 4: Roger
Child 5: Philip
Child 6: Bertha = William de Beauchamp
Child 7: Thomas
Child 8: Walter
Child 9: John = Amabil de Limesi
Child 10: Margaret = Walter de Lacy
Child 11: Henry
Child 12: Annora = Hugh de Mortimer
Child 13: Loretta = Robert de Beaumont, 4th Earl of Leicester
Child 14: Reginald de Braose
Child 15: Flandrina, Abbess of Godstow
Child 16: Bernard
This ordering of the children follows the Braose genealogy given in the 13th century MS
(British Library, Cotton Julius D, x) on the history of the Lords of Brecon.
Matthew Boulter has written a dissertation on the career of this William de Braose which he has kindly made available to readers of this site.