Died: 1205
On July 14th, 1202 King John gave an order to all his justices, sheriffs and bailiffs that John de Braosa should not be impleaded in any court concerning the lands he held unless it was before the king himself. (Patent Rolls)
A further record of John occurs in the Close Roll of 1205 dated 26th March where William de Braose is released from the debt to King John which he owed for the marriage of Amabil de Limesi to his son, John, who was now dead.
Amabil and John are also mentioned in the Pipe Roll, 7 John, Warwick and Leicester, where Amabil pays a fine for her petition not to be remarried after the death of John de Braiosa.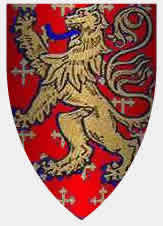 The Knill family have claimed that John had descendants including John de Knill, the founder of their family. The Knill arms are a variant of the de Braose arms: gules, crusily fitchy, a lion rampant or. (right)
However, the fact that Limesi lands were divided between Amabil's two younger sisters makes the above claim unlikely. It would seem that Amabil had died without issue from any of her three marriages.
Father: William de Braose, 4th Lord of Bramber
Mother: Maud de St Valery
Married to Amabil de Limesi in 1204.