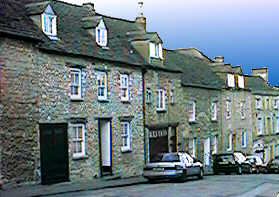 Born: 1220
Died: 1291

Father: John de Braose
Mother: Margaret (daughter of Llewelyn Fawr)

William was only 12 when his father died. The wardship of William and the de Braose lands were granted by Henry III to Peter des Rievaux. On his fall in 1234 these custodies were passed on to the king's brother, Richard, Earl of Cornwall. When William came of age he took control of the Braose lands in Gower, Bramber and Tetbury. He confirmed the grants made by his father of the rents of cottages in Tetbury to the priory at Aconbury, founded in memory of Maud de St Valery by her daughter Margaret. (The sites of the cottages are known - picture right.)
He was plagued throughout his life by a series of legal battles with his female relatives.
William died at Findon on "the day of Epiphany" (January 6) in the year 1290/1. His funeral was at Sele Priory on January 15.

Spouse 1: Alina, daughter of Thomas de Multon, Lord of Gilsland
Child 1: William de Braose (d 1326)
Spouse 2: Agnes, daughter of Nicholas de Moeles.
Nicholas was custodian of the royal castles of Cardigan and Carmarthen.
This marriage brought the manor of Woodlands in Dorset.
Child 2: Giles (of Knolton and Woodlands)
Spouse 3: Mary, daughter of Robert de Ros.
Robert was on the baronial side in the war of 1264/5. Prince Edward escaped from his custody at Hereford and Robert later surrendered Gloucester castle to the prince. Robert was pardoned soon after the battle of Evesham at the request of Prince Edward.
Mary held Weaverthorpe in Yorkshire.
Child 3: Richard (of Tetbury)
Child 4: Peter (of Tetbury)
Child 5: Margaret
Child 6: William
There was at least one more daughter of William and Mary since Mary mentions the delay in marriage of her daughters in 1302 (National Archive doc: SC 8/36/1758)