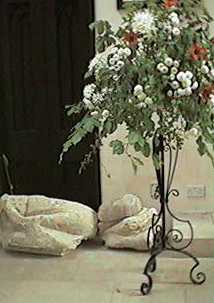 Born: 1272/3
Died: shortly before 7 March 1312
It is likely that the Braose monument in the church at Tetbury, of which only remnants exist, (right) was Peter's tomb, rather than a memorial to William de Braose who died in 1211 as is suggested in the information available at the church.
Father: William de Braose
Mother: Mary de Ros
Peter was the heir of his brother Richard, and was aged 23 at the inquisition on Richard's death in February 1296.
In December 1307, Peter was made a keeper of the peace in Gloucestershire while the king was overseas.
Peter married Agnes, the widow of Henry Huse, at Tetbury. Licence for the marriage was granted on 6 June 1300. The usually reliable "Plantagenet Ancestry" by Douglas Richardson (p. 551) gives Agnes as the daughter of Roger de Clifford, but this is unfounded speculation prompted by the arms displayed in the window of Wiston church, Sussex. The parentage of Agnes is, as yet, unknown.
Peter and Agnes had (at least) four children.
Thomas de Brewes, (1301 -1361), keeper of the forests South of the Trent
John de Brewes, (died 1342), a knight of John de Warenne, Earl of Surrey
Margaret, married (1) to Henry de Tyeys, (2) to Thomas de Monthermer
Mary, Countess Marshal, married to (1) Ralph de Cobham, (2) Thomas de Brotherton
The arms shown are described as those of Sir Peers Braose of Gloucestershire in the Edward II Roll.