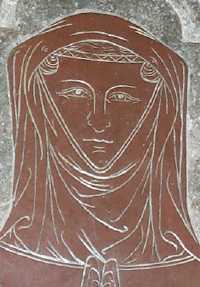 Born: between 1271 and 1280
Died: before 1319

Father: William de Braose (d 1291)
Mother: Mary de Ros

Margaret is first recorded in the 1280 fine between her father and Amicia de Rivers concerning the descent of Chesworth, Grinstead and Bidlington in Sussex. She is noted again, living with her parents in Gower in 1290 when she provides the thread for "measuring" the corpse of William Cragh. This was part of the ritual which invoked the help of St Thomas de Cantilupe in restoring life to this hanged man. (The full story of this meticulously documented medieval miracle is told in The Hanged Man by Robert Bartlett.)

Margaret was married to Ralph de Camoys in 1303. Her mother granted Little Bookham, Surrey, to them. Ralph granted Flockthorpe, Norfolk to Margaret. Ralph and Margaret made a life grant of Little Bookham to her mother, Mary, in 1306 with the service of rendering a rose each year. In 1307, Ralph and Margaret were summoned to attend the coronation of Edward II in the train of the King and Queen. Between 1308 and 1310 Ralph performed military service against the Scots. Ralph married his second wife, Elizabeth, in 1319 and later became constable of Windsor Castle.

Margaret is represented by Britain's earliest full length brass memorial of a woman. It is set in the floor of Trotton church, near Midhurst in Sussex, where she was buried.
Child 1: Thomas de Camoys
Thomas was the main heir of his father and succeeded to Flockthorpe. Norfolk, Stukeley Magna Manor, Hunts, and extensive lands in Sussex. He married Margaret, daughter of Sir Peter Roscelyn. He supported Thomas Earl of Lancaster in the rebellion against Edward II and after the battle of Boroughbridge in 1322 he forfeited his lands. In 1329 the King restored to him all his estates in Norfolk, Northants and Hunts. Thomas fought at Crécy and died in 1372 having left all his estates to his nephew Thomas de Camoys, who is also buried at Trotton, commemorated by a magnificent brass.
Child 2: John de Camoys, Lord of Bekerton manor, Norfolk.
(I have now seen evidence that this John is a child of Ralph's second marriage to Elizabeth.)
His father bought the marriage of Margaret de Foliot for him for £200. Margaret was daughter of Richard de Foliot, and John succeeded to the manors of Gressenhall and Lexham in Norfolk and other property in Yorkshire. John was a commissioner for array in Norfolk and died before 1372.
Child 3: (possibly) Joan
(Given on John Kemmis' site, though correspondence from Douglas Richardson makes me believe that it is more likely that this Joan is a daughter of an earlier Ralph)
Joan married William, son of Robert Butevelein.
See a full account of the history of the Camoys family by John Kemmis.
The arms shown occur in three medieval rolls of arms for Ralph de Camoys. They also appear in the 14th century wall paintings which can still be seen at Trotton church.