October 10th -11th 1999

MEDIEVAL HISTORY UNITES BRAMBER WITH NORMANDY
The village of Bramber celebrated its medieval history this week, with fifty five visitors from Briouze in Normandy. The two small communities exchanged information about their colourful past and re-established links that began over nine hundred years ago.
The story started when William de Braose, Lord of Briouze and companion of William the Conqueror, built Bramber Castle and established it as the seat of a powerful barony. The de Braose Lords of Bramber and Briouze rose to become Marcher Lords in Wales then, under King John, one of the most influential families in the land.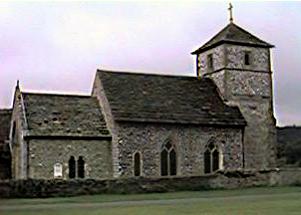 The visitors were all members of their local history society, Les Amis du Houlme. They arrived on Sunday afternoon, October 10 and visited Wiston Church (left) and St Mary's at Horsham (below). The day was completed when the group attended a mass celebrated by their own Abbé at St Nicolas' church at Old Shoreham.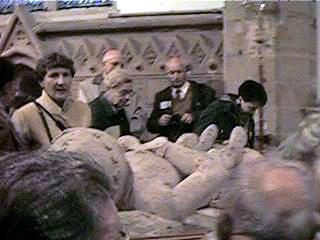 The visitors attended a formal Civic Welcome the following day at St Mary's House in Bramber. The Président de la Communauté de Communes de Briouze, M. Jacques de Malglaive, was with the group and hopes to establish modern-day twinning links between Briouze and Bramber.
Bramber Parish Chairman, Roger Glanville believes that the two English and French communities are natural "twins". "Our mutual history is remarkable," he said. "It is a pleasure to welcome our new friends from Briouze. I hope that we will soon be able to visit Briouze in return."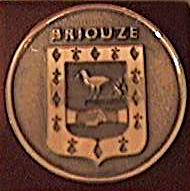 The representatives of the two communities exchanged gifts and Lynda Denyer was honoured to receive the Medal of Briouze (right). After the reception the visitors walked through Bramber and were given a guided tour of Bramber Castle, the original de Braose seat in England.
After visiting St Mary's, the second church built by the de Braoses in Shoreham, the party left to continue their tour of Britain in the tracks of the "Seigneurs de Briouze". The tour included Hereford, Brecon, Abergavenny, Hay and Radnor.