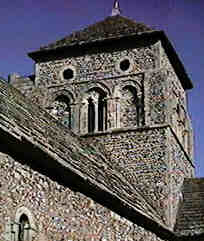 Born 1065 at the latest.
Died between 1131 and 1139
Philip is recorded as consenting to his father's gifts to his canons at St Nicholas church at Bramber in 1073. He confirmed those gifts to the abbey of St Florent in 1096 after the death of his father.
Old Shoreham was part of Philip's demesne lands where St Nicolas church (right) had stood since Saxon times. Philip expanded trade in the area by founding the port of New Shoreham.
He became the first Braose Lord of Builth and Radnor, the family's initial holding in the Welsh Marches.
Orderic Vitalis (Ecclesiastical History of England and Normandy, Book IX, Chapter IV) relates that Philip submitted his fortress in Normandy to King William II in 1096 and supported the king against his brother Robert Curthose, Duke of Normandy. But, like Robert, Philip may have left Normandy at this time and joined the First Crusade to the Holy Land, returning in 1103. There is evidence in charters that Philip journeyed to the Holy Land but the date of his visit is uncertain.
Philip's lands were confiscated by Henry I in 1110, due to his traitrous support of William, son of Robert Curthose, but they were returned in 1112.
Father: William de Braose, 1st Lord of Bramber
Mother: Eve de Boissey (probably)
There are charters where Robert de Harcourt's sons, Philip and Richard, refer to Philip de Braose as "patruus" - paternal uncle. This lends weight to the theory that Robert de Harcourt and Philip de Braose were both sons of Eve de Boissey. In another record dated 1103 (Pipe Roll Soc. Vol 71 no 544) it is stated that Philip de Braose was represented by "his brother Robert, the son of Anketill".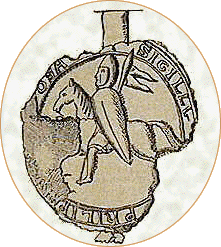 Philip was married to Aanor, daughter of Judael (Johel) of Totnes.
Child 1: William de Braose, 3rd Lord of Bramber
Child 2: Philip
Child 3: Basilia
Child 4: Gillian
Child 5: A daughter who married William de Tregoz, the father of Philip de Tregoz who was sheriff of Sussex in 1190. (see evidence here and here )
Elwes cites Collins' Peerage, 1761, stating that Ralph de Gernon married a sister of William de Braose (assumed to be another daughter of Philip), but this is almost certainly an error. Ralph de Gernon married a sister of William de Briwere.

(Philip's seal is shown right)