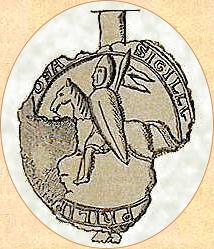 A new order of fighting monks to defend the Holy Land, the Templars, caught the imagination of many warlike benefactors, including the Braoses. Saint Bernard of Clairvaux created holy orders for the Knights Templar in 1128. One interpretation of the historical record suggests that Philip de Braose travelled to Jerusalem more than once. (6.1)
Some of the earliest gifts to the Templars came from his Sussex domains. Philip de Harcourt bestowed the order with the manor and church of Shipley. (6.2) His brother, Richard de Rennesville, was a Templar. Richard's tomb has survived at the old Templar Commanderie of Saint Stephen, Rennesville.
Philip de Braose's wife also gave five acres in Bramber to the Templars, where Saint Mary's House now stands. (6.3) This provided the order with free access to the port. The land came from her dower and was given in honour of her crusading husband. Philip de Harcourt added Saint Mary's Church in Sompting to their rapidly growing wealth in 1154. A small holding in the lost port of Pende, Lancing and a chapel in Cokeham, Sompting came later.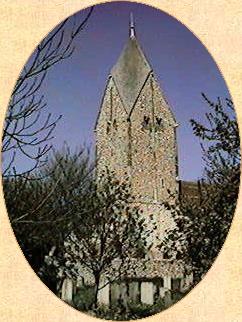 New Shoreham was founded by Philip de Braose and became one of the most prosperous English ports during the next three centuries. Philip built the beautiful Saint Mary de Haura Church for his town and gave it to Saint Florent Abbey of Saumur, possibly in thanksgiving for a safe return from the Holy Land. The Templars and the Knights Hospitaller established large houses at New Shoreham but the river has long since washed away the remains. (6.4)
Returning crusaders frequently introduced leprosy to the community. Philip or his son may have been responsible for establishing the hospital of Saint Mary Magdalen between Bramber and Steyning in the area still marked with the name Maudlin. The bodies of medieval lepers were unearthed here when a housing estate was built in 1959. They were examined by archaeologists, then covered over in their burial place. (6.5)
Further evidence of lepers can be found at Saint Botolph's Church nearby, on the Coombes Road. A low side window beside the altar allowed lepers gathered outside to watch the service without risk to the congregation.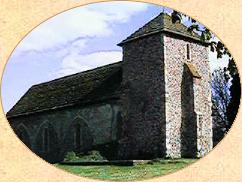 Philip's death appears to be recorded by a 12th century writer, Gerald of Wales. (6.6) Some time before 1136, Philip and his dogs spent a night in the church of Saint Afan, or Llanafan in Welsh. They had been hunting near Builth. At first light Philip awoke to find that all his dogs had gone mad and he himself was completely blind.
After years of "tedium and darkness", Philip grasped an opportunity to redeem his offence against the Church, "for he did not wish his spiritual light to be extinguished as his eyes had been". He armed himself and travelled to Jerusalem on a strong war horse, led by a group of friends. They took him to the front line of battle, where he gallantly charged forward. Philip was immediately struck down by a sword blow and met an honourable death.

Saint Mary's in Sompting, with its Saxon Rhenish helm, is unique in Britain. The Templars were dissolved after 1308, charged with many heresies.
back to text
Saint Botolph's church was built in 950. The Saxon nave and chancel arch are blended with early English features.
back to text