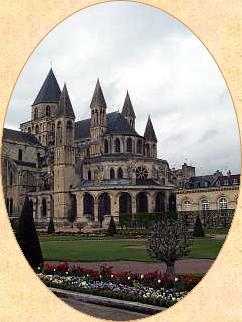 William de Braose's first wife is said to be Agnes, daughter of Waldron de Saint Clare. He also married the widow of Anchetil de Harcourt, Eve de Boissey, who already had seven sons and a daughter. (5.1) Eve's son Robert le Fort was a Hastings veteran and a close companion of William de Braose.
The alliance between Braoses and Harcourts continued for several generations. Robert's son Philip de Harcourt rose to become a powerful man, first as Dean of Lincoln and Archdeacon of Evreux, then as King Stephen's Chancellor. He was a trusted friend of King Henry II and as Bishop of Bayeaux rebuilt the Cathedral after a great fire. His tomb is still there.
The Conqueror's survey of land tenancy and feudal dues, the Domesday Book of 1086, is an impressive statement of Norman supremacy. Only twenty years after the Battle of Hastings, the old Saxon aristocracy had all but vanished. William de Braose features in the survey as an established tenant in chief. The following year he attended the Conqueror at his death, at the Priory of Saint Gervais outside Rouen. The King had been impaled on the pommel of his saddle during an attack on Mantes, when his horse took fright at the flames. He was buried at the Abbaye aux Hommes in Caen.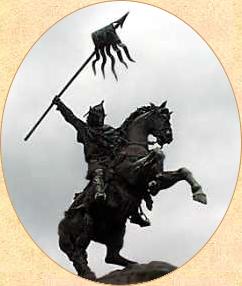 The Conqueror's dying wish was to divide his domains between his sons Robert and William but the two were incapable of sustaining peace.
Robert Curthose, the elder son, became Duke of Normandy but gained the support of many who believed he should have the English crown too. William Rufus successfully defended his claim to England but the conflict ruined many prominent men. The de Braoses appear to have supported the King. One of those who supported Robert was Judhael of Totnes. William de Braose's son and heir Philip was married to Judhael's daughter Aanor. Judhael held extensive lands in Devon, he had influential connections and his wife was a Breton of the Picquigny family, but in 1088 Judhael was banished from England and lost everything.
In 1094, Robert Curthose gained ground when he besieged Briouze Castle. A supporter of the King, William Peverel, opposed Robert with 800 men but they capitulated when it became clear that Rufus had not sent forces to relieve them. (5.2) William de Braose may have died during this conflict. He is last seen in 1093 and was certainly dead by 1096.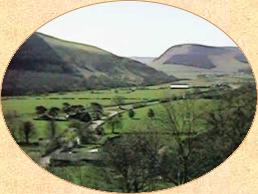 His son Philip had already followed the family's warrior tradition. The bloody struggle for territory in the Welsh Marches particularly suited the de Braoses' warring ambitions and Philip gained an unsteady hold on Radnor and Builth. (5.3) The Welsh princes who defended these lands as their birthright launched repeated campaigns.
Early Norman gains met with several setbacks but Philip eventually consolidated his position and was able to build strong castles. The Marcher Lords held their lands largely outside the jurisdiction of the English Crown. This policy provided a powerful incentive for the relentless warfare needed to subdue the Welsh. The Marchers' autonomy soon challenged the monarchy, however and as their Welsh alliances extended to marriage a distinctive new aristocracy arose.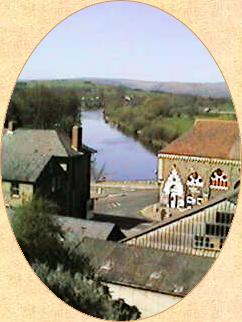 Philip de Braose travelled to Jerusalem on the First Crusade of 1096. (5.4) Robert Curthose was also among those who responded to the Pope's call to arms. The Crusade was a welcome relief to men whose fortunes were threatened by hostilities between Robert and his brother. In fact four out of five Crusaders failed to return home but Jerusalem was taken from the Turks in 1099 and, despite the savagery of the conquest, the survivors were covered in glory.
Philip must have returned to England a formidable and battle-hardened hero. At this time, in the year 1100, William Rufus had just died, his youngest brother Henry had seized the throne and Robert Curthose resumed his rule in Normandy. Philip de Braose appears as England's tenth most wealthy baron. (5.5)
By 1106 Henry had defeated Robert Curthose at the Battle of Tinchebray, twelve miles north of Domfront and perilously close to Briouze. England and Normandy were united again under King Henry I but continued wars on the Continent eventually compromised Philip de Braose. In 1110, King Henry confiscated his lands.
Philip was back in royal favour within only two years, however and his barony was restored to him. (5.6) Philip's wife, Aanor, had enriched the family with new West Country strongholds (though they were saddled with legal disputes into the next century). Her father Judhael had been recalled from exile to become Lord of Barnstaple.

William the Conqueror was buried in the Church of Saint Etienne at the Abbaye aux Hommes, Caen. His tomb is marked by a marble slab of 1802 but, having been desecrated during the Wars of Religion and the French Revolution, all that remains inside the tomb is a single leg bone.
back to text
William the Conqueror is represented by this statue at Falaise in Normandy, close to the castle entrance.
back to text
New Radnor is overlooked by an enormous castle mound. Philip de Braose built Radnor castle to guard a strategic route into Wales. The path of the early Norman invasions can be seen clearly from the mound.
back to text
Builth also has a rugged grassy mound which was once a seat of power for the Norman invaders of Wales. The castle dominated an area of rich cropland in the Wye valley and held sway over the crossroads of mid-Wales.
back to text