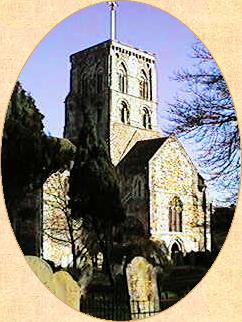 William de Braose was as god fearing as his ancestors, despite his savage reputation. Five years later he remembered the atrocity he committed against the Welsh princes and sought atonement by massively extending the church of Saint Mary de Haura in New Shoreham, Sussex. He later rebuilt or restored many of the churches within his Welsh domains. These included Saint Bridget's in Skenfrith, Saint Nicholas' in Grosmont, Saint John's in Brecon and Saint Mary's in Abergavenny.
Gerald of Wales wrote a famous account of his Welsh tour during 1188. He met William de Braose in Brecon and described him as a pious man, riding about the town on his horse exchanging God's blessings with little children. Gerald also complimented William's wife Maud for her efficiency as a housekeeper. In fact, as archdeacon of Brecon, Gerald knew the family well.
Some strange folk tales about Maud de Saint Valery have survived. One story calls her Moll Walby and tells how she built the castle of Hay on Wye, single handed in one night. She carried the stones in her apron but one lodged itself in her slipper. She flicked it out over the river Wye three miles away, where it survived the centuries as a nine foot tall standing stone with magical powers.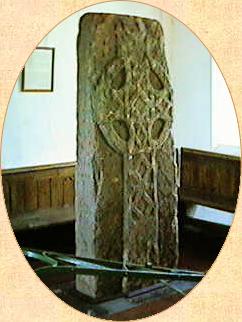 Substantial remains of the de Braose castles can still be seen in the marches. The towns of Abergavenny, Hay and Brecon were each dominated by a massively fortified family residence. The armoured and mounted knights which clattered over the drawbridges were a persistent menace.
A typical piece of folk lore begins two miles from Matilda's (or Pains) castle. The baron was returning with his men from a hunting expedition when they spotted a Welsh princess and her attendants bathing in a lake. William carried off the women and imprisoned them in the castle. The princess caught the attention of her grieving relatives by holding a family token over a candle at her dark prison window. William denied that he had taken the girl but Rhys ap Gruffydd launched a bloody attack on the castle and rescued her.
The great lord Rhys of Deheubarth did lead a massive campaign in 1196, taking Matilda's castle, Builth, Radnor and others before his death in a terrible plague the following year. Perhaps there is some truth in the folk tale.

Saint Mary de Haura church was once very much larger. William de Braose's additions were so extensive that he may have intended to establish an abbey there. It is the finest of its type in the country. The unusual name of the church is thought to relate to its position by the harbour of New Shoreham.
back to text
By tradition, Maud's stone landed in the churchyard of Saint Meilig's at Llowes, near Hay on Wye. In 1956 it was moved inside the church where it now shares a corner with an old hand plough. Modern scholars believe the ancient three and a half ton stone was moved from a mountainside spot still called Croesfeilig (Saint Meilig's Cross ). The outline of a woman is carved on the reverse side.
back to text