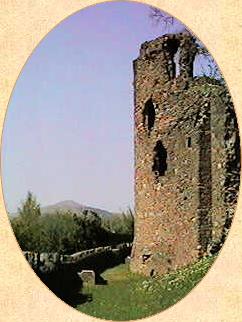 William de Braose junior celebrated his new lordships in 1175 with a Christmas feast at Abergavenny castle. The princes and chieftains of Gwent were invited, including Seisyll ap Dyfnwal, lord of Upper Gwent and his son Gruffydd. Seisyll was the murderer of William's uncle Henry.
Those gathered in the great hall had recently met king Henry at Gloucester to pledge peace and fealty. The Welsh laid down their weapons for the feast but the drunken merry making came to a dramatic halt when William challenged them never again to bear arms in his domains, according to the king's order. Seisyll indignantly refused. William's men took this as the signal to slaughter all his Welsh guests.
The murder of William's uncle Henry had benefited the de Braoses well but it was savagely avenged. William pursued Seisyll's wife Gwladus and cut down the son she was protecting in her arms, seven year old Cadwaladr. Seisyll's lands were ravaged.
Seven years later, Seisyll's surviving sons in turn avenged the massacre by burning most of Abergavenny castle to the ground. The keep held out, however, William retained his stronghold and an imposing new castle was built. This fourth Lord of Bramber married a formidable woman, Maud de Saint Valery, sometimes called Matilda. She supported her husband's military ambitions and he put her in charge of Hay castle and surrounding lands. Welsh folklore portrays her as a giantess and a witch.
In 1198 Gwenwynwyn, prince of Powys, threatened the entire Welsh middle marches after the death of Lord Rhys. William de Braose hurried to defend Brecon while a terrified and unprepared force marched to intercept Gwenwynwyn as he swept towards Hay.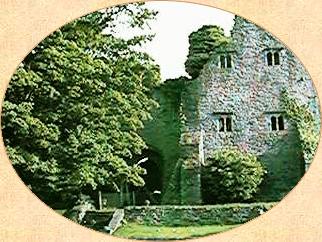 Maud de Saint Valery appeared before the English army disguised as a nun. She was accompanied by a Welsh hermit from Llowes who assured the men that they should go into battle without fear. "And they believed him, as being a holy man, they did so, and in one day slew of the Welsh three thousand." (8.1)
William de Braose instigated another furious blood feud in his reprisals against Gwenwynwyn's campaign. He seized the lord of Llangorse, Trehearn Fychan, and bound him to the tail of a horse. To the shame and fury of the Welsh, he dragged the man through the town of Brecon then had him beheaded. The body was hung up by the feet to rot on a common gallows.
Gwenwynwyn vowed revenge and returned to besiege Painscastle, known as "Matilda's castle" in Elfael. Maud held off the massive Welsh attack for three weeks until Norman reinforcements arrived. Welsh bards wrote mournfully of the three thousand seven hundred Welsh men who were slaughtered there.
Bad blood between the de Braoses and the Welsh continued for generations.

Abergavenny castle was the scene of William de Braose's most notorious offence against the Welsh, earning him the name Ogre of Abergavenny. The castle mound is now the site of a museum with views across the river Usk.
back to text
Hay on Wye is now famous for its second hand bookshops. The castle, said to be built overnight by Maud de Saint Valery, is now the headquarters of bookshop baron Richard Booth.
back to text