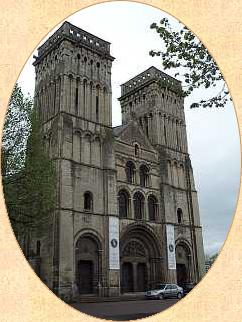 William de Braose sailed to England with William the Conqueror in 1066 (2.1) His home was Briouze in Normandy, near Falaise where the Conqueror was born. He held other lands including Guibray at Falaise, where one of the greatest trading fairs of Normandy took place.
The de Braose family origins are unknown, except for the name of William's mother Gunnor.(2.2) She became a nun at the Abbey of Holy Trinity in Caen, known as the Abbaye aux Dames . Like Queen Matilda who founded the abbey, Gunnor was probably buried there.
King William distributed manors across the country to his companions but he chose his best warriors to defend the coast of Sussex. Trade and travel between Sussex and Normandy was a lifeline for the new conquerors.
Sussex was divided into "rapes" for administrative and defensive purposes. The King created a lordship for each rape and the lord strengthened his position by developing a major castle and a port. Trade with Normandy soon flourished, free from interference by English rebels or invaders such as the French or the Danes.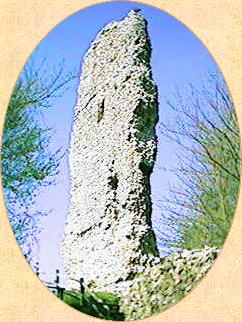 William de Braose became Lord of the Rape of Bramber five or six years after the Conquest. He also gained some manors elsewhere, including important locations around Wareham in Dorset. In Sussex, de Braose's rape straddled the River Adur. It was carved out of the lands between his two Norman neighbours, William de Warenne, the Lord of Lewes Rape and Roger de Montgomery, Lord of Arundel Rape. (2.3)
William de Braose had built Bramber Castle, near Steyning, by 1073 to dominate the fertile Adur River Valley and its coast. At first the castle would have been a ditch and a wooden enclosure with a high defensive mound inside. Stone castles were only started after local resistance was under firm control.
The rape needed inland defences so William built Knepp Castle, near Shipley. It became a hunting lodge favoured by generations of de Braoses and even by King John when he briefly held the castle. A mound and some flint ruins can still be seen. Shipley Church has survived with many Norman features intact.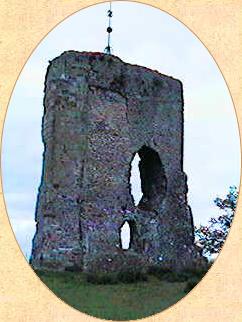 Links between Bramber and Normandy existed before the Conquest. These became highly sensitive after 1066 and were destined to cause some serious problems for William de Braose.
The River Adur was wider and deeper than it is today and it had a thriving port at Steyning, just north of Bramber Castle. The port belonged to an important Saxon church, Saint Cuthman's. King Æthelwulf was originally buried there in 858. In 1043 Edward the Confessor granted Saint Cuthman's Church to the Benedictine Abbey of Fécamp in Normandy. The monks of Fécamp had given Edward refuge during his long period of exile in Normandy. Later, as King of England, Edward rewarded their hospitality. The port was significantly placed on a navigable river and seemed to represent an "open door" for a Norman successor to King Edward, who was childless.
King Harold's father was a dominant force during Edward's reign. He severed the link between Saint Cuthman's and Fécamp in his efforts to check the Norman influence on English affairs. Harold continued this policy before and after his coronation. William the Conqueror cited this outrage as one of the reasons for his invasion and Fécamp Abbey lent its powerful moral support. The Norman attack and William's claim to the throne won the Pope's blessing and the status of a holy war or crusade. Benedictine monks from Fécamp funded an invading ship and followed the Conqueror to Hastings, in anticipation of lavish endowments and special favour. (2.4)
William de Braose had other priorities. He was intent on building the defences of his rape and placing his own men at key locations. (2.5) He paid little attention to the monks at Steyning. The King also seemed to have forgotten his earlier promises to Fécamp when he established the new lordship at Bramber Castle. Fécamp Abbey nursed its claims until twenty years after the Conquest, when the issues were put to the test.

The Abbaye aux Dames in Caen, Normandy was founded by the Conqueror's Queen Matilda. King William also founded the Abbaye aux Hommes, Saint Etienne, in Caen. These "twin" abbeys were built to satisfy the Pope, who initially refused to recognise William and Matilda's marriage.
back to text
Bramber castle is now an English Heritage property. The grounds are a popular picnic site, with scenic views and a picturesque village nearby.
back to text
Knepp castle can be seen from the A24 road, near West Grinstead, standing in private farmland. Stone from the castle was used to build the road.
back to text